Saturday October 08, 2005
Size Matters!
Ferrari 330 P4 &
Porsche Carrera 6
Although I am primarily a 1/32nd scale enthusiast, I do still race the larger 1/24th scale models from time to time. The only thing that has stopped my collection from growing is the small amount of selection. Carrera has been making this scale of models for quite some time in their Exclusiv series, but these 2 new releases are miles apart from previous efforts.
If you have been in this hobby for awhile, I am just going to ask that you forget everything you have ever seen or heard about Carrera 1/24th scale models. These models are a completely new and with more changes than you can shake a stick at. Arriving here safe and sound from Carrera USA, we immediately took these cars out of the cases and began to look them over.
These are brand new with a completely new chassis design that has literally transformed them into the kind of race cars many of you have always wanted them to be. If you are just looking to get started and like the aspect of having this larger scale, get ready for some incredibly fun racing action. However, before we get to the road report, let us take a quick glance around each model.
Although I am known for being a little more forgiving in the scale accuracy and detail department, I think the photos speak for themselves. Both the Ferrari and Porsche are very good examples of the prototype according to photos I have compared them with. Of course, as always in this hobby there are going to be some issues here and there and either these 2 models are close enough for your taste or they are not.
The impressive thing to me was the overall fit and finish. Both models have very clean and opaque markings and a very clean and run-free clear-coat sealing everything in place. The small things such as the stamped rivet detail and front screen mesh on the Ferrari really draws you in closer, at least it did for me. I can only add that the responses from our message forum on the first photos of these models have all been very positive, which should tell you that most enthusiasts are liking what they see.
The interiors here are half-tray in design but still provide a decent level of detail for most racers. This half tray type of design was needed for the changes inside (which is what really matters, they are meant to be raced) and it doesn't take away from the scale appeal of the model for my taste.
Wheels and tires are very well done with the tires seeming to be of a slightly softer compound. I cannot confirm this, I simply going on feel. They were very round and true and the tires needed just basic sanding to get the contact patch I like to start with. However, straight out of the box, both these models ran very smoothly and trouble free.
Time To Get Down And Dirty!
Finally, turning the model over we see the beginnings of all the changes. Some of you who have older versions of Carrera 1/24th scale are probably very stunned right about now. I have to admit I certainly was.
Let us start up front at the all new guide. We now see a wrapped braid system that helps give better contact with the rails and also a quick disconnect feature for replacing braids. The directions for removing the guide plate is very clear inside the instruction sheet but it does take a little effort. First, these new models are equipped with a drop-arm type system that allows the guide to float.
You must pull back on the drop arm until it snaps free of the guide height plate. Then press down on the small tab in front and simply snap the guide plate forward. I could actually pop this loose using both thumbs on either side and just using a little more pressure. Now you can slide the braid off either side of the guide plate and replace it. Carrera includes 1 set of replacement braid along with 1 guide blade inside the back of the display case.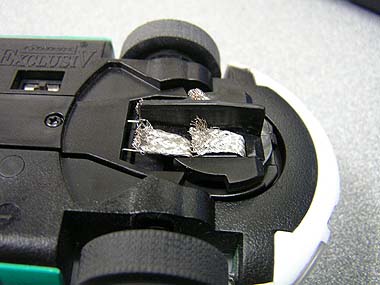 One of the things I liked best about this guide is it's depth (8 mm at it's deepest). Finally, someone has retooled a guide that is deep enough to help keep needless de-slotting down to a minimum. On the other hand, some advanced enthusiasts may not like how stiff the turning action of the guide is. Since there are solid metal straps running up to guide braid for contact, there is an unusual amount of pressure that some of you may not be used to. However, it did not effect these models as far as we could tell when testing them. The sheer mass and weight of these behemoths turn the guide almost effortlessly.
Next to the end of the drop arm we see the familiar polarity switch which allows you to change the direction of the model. Directly behind it is one of the biggest changes to this model: The adjustable magnet system.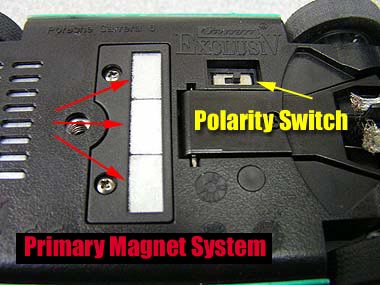 This pocket is held in place by 2 screws and it contains 3 separate magnets inside. It is here that you can tune this car to almost any magnet configuration. You can take out or leave in the magnets, or just take out 1 or 2. I like this system as it allows those who enjoy magnets, but like their models a little less stuck down options to work with. Not only can you remove the magnets but there additional shims included in the case (0.50mm thick) that you can add to drop the magnet system even lower
But this is not the only magnet! To the rear of the model is another bar magnet that is identical to the ones found in the 1/32nd scale cars. Under it are 2 shims that you can remove or leave in place to further adjust the magnetic traction effect. But wait! There is more to the options with this rear bar magnet. This time it involves an adjustment from the inside so keep reading as we get even closer.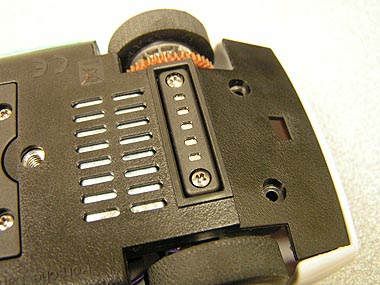 So, those of you who like magnets should be happy. Again, this is a far cry from the old square flip magnet we have seen before. Out of the box this car does have a stuck down feel to it, how could it not? However, let us remember that this car is larger and quite a bit heavier.
Just Getting Started
According to the directions included in the model, there is a screw located underneath the drop arm that will allow you to adjust the height. In order to variably reduce or enlarge the distance between the car and track, this screw must be brought into a lower or higher position. This is ideal for those that like using the high banked curves Carrera makes, especially the tight #1.
How this works is that backing the screw all the way raises the drop arm distance. Putting the screw all the way in allows the drop arm to seat closer to the chassis. The photos should help describe this a little better.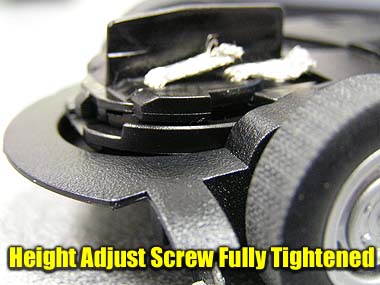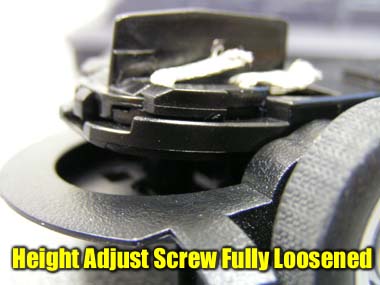 However, this is not the only way to adjust ride height. You can see the 2 front mount screws once you pop the drop arm up. To the rear of the chassis are 2 other screws. Remove all 4 to free the chassis from the body. Looking up front you see the front axle housing assembly. There are 2 screws that you need to remove, after this you can see that there is a shim underneath.
You can remove this shim from the chassis and place it on top of the axle bracket. This will move the front axle away from chassis a little more to give even more clearance. For our track however, we simply left it in the stock position.
The front axle bracket has a brass/copper spring plate that acts sort of like suspension, but it is very light. the front axle does have brass bushings and it was well lubricated. Although there is some body roll introduced here, it was not enough to effect handling, at least on our test tracks of Artin, which is banked that introduces uneven lane surface or the Carrera, which is flat.
These models are fully lighted both front and rear and function without battery. This means the car lights get brighter the faster that you go. Inside you see the printed circuit board that is the heart of the whole system with quick disconnect plugs for easy motor and light bar removal/replacement. I would like to see them utilize a battery system in these models as it would just increase the realism of the model. There is certainly room for it and perhaps Carrera will add it in the future.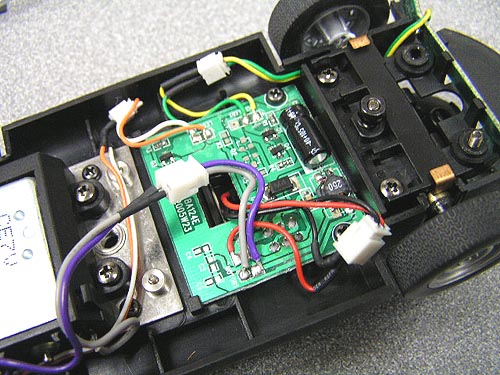 Gearing Up For Action
To the rear you can see the motor pod assembly held in place by 4 screws. The new motor is rated at 18,000 RPMs and equipped with a 10 tooth pinion while the spur gear is a 50 tooth. I am not sure what material Carrera made the spur gear from, but according to them it is called POM. It reminds me of a reinforced fiberglass/plastic compound. In any event, the operation is very smooth and quiet, and just got better after prolonged break in.
The motor pod is easy to take out and once you do it reveals even more tuning possibilities. Directly under the rear axle is the rear bar magnet bracket mount. In the stock position you can see the raised shanks for the threads facing upwards which makes the bar magnet pocket on the underside of the chassis flush.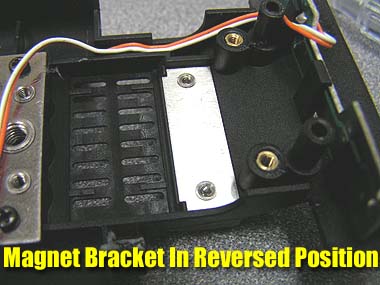 You can flip this bracket so that the shanks are faced down which will in turn force the bar magnet to move even closer to the track rails, increasing magnetic down-force. So, do you think that there is enough adjustments you can make? I hope not because there is more.
The rear axle has a similar bracket as does the front which you can further adjust ride height. Remove the motor pod assembly and turn it over. Here you can see 2 screws holding the rear axle in place. Remove these 2 screws to remove the rear axle assembly.
As you can see, the rear axle has a bracket that can be reversed just like the front. When you do, you really change the height of the model.
Time For Fun
You might think that all this is complicated, and perhaps to some it will be. However, all you really have to do is remove these models from their cases and place them on the track. In fact, that is just what we did and have not made any changes to the setup on either model.
Right out of the box you are going to enjoy how these models run. Some of the things I have heard over the years about prior models from some enthusiasts is that they did not have enough magnet, lacked tight braking, and had poor acceleration. I always thought it was unfair to judge these models against the smaller 1/32nd magnet cars, yet people expected these larger cars to run like them.
Well, all I can say is this is a whole new car and it runs like one. Acceleration and braking are drastically improved and needless to say the magnet department is heavily upgraded. We tested these cars on a Carrera track with standard (box) power and control. These cars really perform well and I think most who get them will discover this rather quickly. The magnet system keeps these large cars pretty stuck to the track, but because of the weight and size of them, they can still be easily drifted through the corners and give you a decent reaction time to recover from being a little heavy on the throttle. Lap times at 16 volts stayed right in the 4.5 second averages which was impressive for these models. Good tire sanding and a little trigger time (practice) had us easily in the 4.3 range.
One thing that is a plus is the fact they are lighted. The lights on these models are very bright at full throttle and look great coming and going. There is some bleed through on the Porsche, but not enough to really bother me. We seem to be enjoying night racing more often and having models with lights (that should have prototypically) just increases the fun and realism for us.
We then tested the cars using after-market power and control. I set our Pyramid power supply at 16 volts and used PARMA 35 ohm controllers. Even with the voltage slightly lower, the better controllers again gave us great handling and even increased control. Some of you might ask if they can be raced on 1/32nd power. Well, the answer is yes, but at 12 to 14 volts you can just about run them full speed through any corner without de-slotting. It also effects acceleration and overall control. If you want one of these cars, you will need to have at least 16 volts to see how much fun they can be.
There are going to be some advanced enthusiasts that most likely will not enjoy the model as much as we have. And I am sure that when they are released we shall hear some negative about it. Personally, I cannot see how a home racer could not have fun with these cars.
Although these cars will not please everyone, in this review I am not only giving you my personal opinions but also the opinions of others. Since these cars arrived they have been raced by a wide variety of my local racers with ages ranging from 8 to 50. All of them thought the cars looked great and were extremely fun to race. This weekend is a major race event here and many of the enthusiasts you have seen in our forums over they years are coming to pay us a visit. When they arrive I am going to ask all of them to give these models a going over and then let them report to you how their findings.
The bottom line in my eyes is that Carrera has created a winner in this scale as it delivers just what this hobby is all about: FUN! I am certainly going to add more to my 1/24th collection as soon as they become available.
- Harry
As always, feel free to contact me about this review or just the hobby in general.
The Cars Featured Are Also Available In The New Exclusiv Set From Carrera.
These Sets Should Be Arriving Soon So Check With Your Favorite Dealer.
Individual Cars Will Be Available Later On In The Year
Stay Tuned As We Look Closer At One Of The New Exclusiv Sets With More New Models!
Coming Soon!

Thanks Go To Carrera-USA For Providing Us With These Great Models!